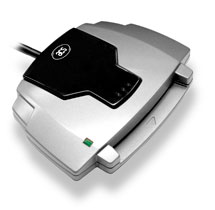 Smart Cards and Equipments:
CardTec has expertise in providing Smart Cards and Equipments for all types of projects on OEM basis, for system integrators and end users. With an in-house manufacturing and printing unit, we are capable of producing small as well as large quantities. Our partners in Hong Kong / Shenzen (China) can offer huge volumes at short time-frame, at extremely competitive prices.
These systems are used for:
a) RSBY (Rashtriya Swasthya Bima Yojna)
b) ESIC (Employees State Insurance Corporation)
c) Financial Inclusion Projects of Banks d) Arogyasri
e) UID, Multipurpose National Identity Card (MNIC)
f) NREGA (Mahatma Gandhi National Rural Employment Guarantee Act)
g) Transportation Sector (Driving License, Registration Certificate)
h) Coastal ID Cards
i) Gas Distribution, Ration Cards, Pension Card, Border Area Identification Card
j) Canteen Management
k ) Club Management
l) Employee Attendance / Time Attendance
m) Electronic Purse (E Purse)
n) ID Verification & Access Control
Enquire Now..
Types of Smart Cards and Equipments